Insights – Friday, February 21, 2020
It is safe to say that the UAE has been the pioneer in the Middle East when it comes to transitioning to renewable energies. Solar PV is by far the leading technology with energy storage, energy efficiency and others only recently moving into the focus of planners as an integral part of sustainable energy systems. Still, the UAE is only at the beginning of making ambitious visions a reality.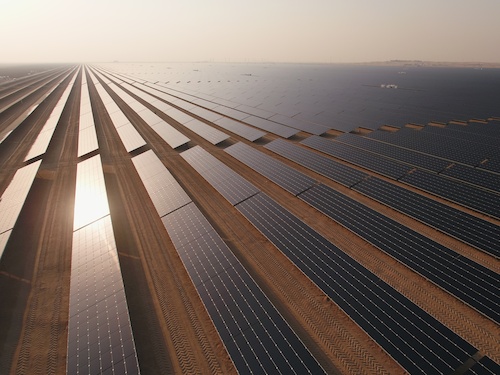 Alongside early pioneers such as Morocco and Jordan, the Energy Transition in the UAE has started well more than 10 years ago – with Masdar as an early player in the sector, pushing key developments from the very start.
Indeed, the same year Dii Desert Energy was founded as market enabler for renewable energy from the deserts and in 2009, the first utility-scale solar PV plant was inaugurated at Masdar city. Also on the CSP side, a 100 MW parabolic trough plant near Abu Dhabi was inaugurated. Dubai has moved similarly, inaugurating a first 13 MW solar PV plant as the first phase of the Sheikh Mohammed bin Rashid Al Maktoum Solar Park, which was intended to be expanded to host an overall solar PV and CSP capacity of 5,000 MW. However, after the announcement of the winning bid for phase two, the procurement was immediately doubled from 100 to 200 MW. The tariff of just below 0.6 $/KWh shocked the market and many players did not believe that this would have been possible.
However, what followed in the coming year once more surprised even the greatest optimist. Phase III a year later was just below 0.3 $/KWh and the largest solar park in the world in Abu Dhabi, Sweihan, scored a record low tariff of 0.242 $/KWh. The latest solar PV tender brought the price down to below 0.17 $/KWh and we can only speculate which prices the latest 2 GW solar PV tender, including storage, would be able to deliver to the market.
A well designed and executed procurement program in the UAE, combined with other ideal factors like zero tax, a perfect logistic chain and abundant land for free, combined with a solid credit rating made this revolution possible, which for sure could influence the global solar industry in a positive way. And this with even relatively low solar yield compared to other MENA countries like Jordan or Egypt.
For CSP, Dubai helped to reinvigorate a globally declining industry with a 700 MW CSP plant including 15 hours full-load thermal storage, which has scored a record low tariff of 0.73 $/KWh over 35 years. Hence, even CSP, delivering base-load solar power, can comfortably compete with fossil generation.
While the large now even single GW scale solar PV projects are fast increasing the share of solar energy in the overall electricity generation mix, new market segments have also been developing over the last years. With the introduction of the net metering regulation in Dubai, an overall capacity of around 150 MW of mainly industrial/commercial solar rooftop projects (projects between several 100 kW up to several MW scale capacity, one single project even 18 MW making it the largest rooftop in the MENA region) developed over time. Even with a recently introduced cap on the capacity per project, this market segment will grow further over the coming years. The economics are just too convincing for not doing solar where large rooftops are available to save a significant percentage on the electricity bill.
Another new market segment is in off-grid power, where a successful local start-up has been optimizing an approach to complement diesel generators with large, mobile solar fields, acting as a fuel saver. This market segment is in temporary power, e.g. for camps in the desert, oil & gas application, construction sites or island. The company has also been pioneering incorporating batteries intending to make generators obsolete in the future and recently commissioned the first off-shore floating solar PV plant at Nuraj Island.
On the storage side, the 250 MW pump storage project in the Dubai Hajar mountains is already under construction, and a large battery storage project was also deployed in Abu Dhabi.
Internationally, the UAE are connected to Saudi Arabia and Oman via the GCC IA high voltage grid. Over the last years, we could observe a dramatic increase in bilateral trading of electricity and Oman will be the first country this year to introduce a spot market.
Looking in the future, it is safe to say that the UAE but also MENA region are at the beginning of a major energy transition towards low cost, reliable, emission-free energy. Energy efficiency emerges as big topic with new business models e.g. on an ESCO basis.
District cooling can also play a strategic role in a future energy system, using thermal storage to act as a battery for the grid as well as apply new business models with load shifting (note that 70% of the electricity load in summer are used for cooling).
Another big driver will be the production and use of green hydrogen. A pilot project in Dubai with an already MW scale production of green hydrogen by solar PV will be soon commissioned in Dubai. The green hydrogen can then be used locally or internationally, be converted to ammonia, used for e-fuels, to decarbonize transport, industry and not easy to abate sectors.
In this respect, the UAE can become a power-house not only for green electrons, but also green molecules.
About Dii Desert Energy:
Dii Desert Energy is a unique industrial initiative and multi-stakeholder network, with its headquarters in the UAE and other team based in Germany, the UK and Spain. Since its foundation in 2009, Dii Desert Energy focused on creating conditions in the regional energy markets to move towards an emission-free energy system in MENA. By accelerating public programs and private sector renewable energy projects, Desertec vision has always been to support the creation of local jobs and industries, leading to sustained prosperity and stability for the use and benefits of the region. Celebrating its 10th anniversary this year, the organization launched Desertec 3.0 with the focus on creating conditions for green electrons (power) and green molecules (hydrogen, ammonia) along the energy value chain and to make MENA a 'power house' for the energy world markets.
We recommend to read Dii's book 'Emission Free Energy from the Deserts' by Paul van Son and journalist Thomas Isenburg (available at Amazon) as well as the reports the 'North Africa-Europe Hydrogen Manifesto' (Click here) and the 'Battery Storage: Is the Middle East Ready Yet? (Click here).

Author: Cornelius Matthes | Senior Vice President Dii Desert Energy MENA
Image: Dr. Thomas Isenburg, Paul van Son: "Emission free-energy from the deserts", 2019.
More info: www.dii-desertenergy.org
The ees International Magazine is specialized on the future-oriented market of electrical energy storage systems, not only from a technological-, but also a financial and application-oriented point-of-view. In cooperation with ees Global, the ees International Magazine informs the energy industry about current progress and the latest market innovations.