Middle East Energy 2023 Shows Its Power With Confirmation of Records and Rising Interest in Renewables
Press Release – Tuesday, March 14, 2023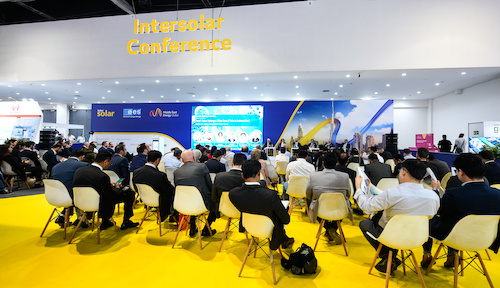 Dubai, UAE – March 14, 2023: Middle East Energy (MEE), the MENA's most comprehensive energy event, powered to new records in terms of visitor and conference delegate numbers as well as onsite orders during its 48th edition at Dubai World Trade Centre (DWTC) earlier this month. This year, Intersolar and ees Middle East contributed to MEE's success with the 7th edition of the Intersolar & ees Middle East Conference and an expanded Renewable Energy section at the exhibition center with a significant growing number of companies from the solar and energy storage industry.
The three-day show brought more than 900 international energy providers from 170 countries, promoted ground-breaking technology and innovation across five dedicated product streams, and racked up an onsite order book with a value in excess of US$1.86 billion – a massive uplift on the previous year's total of US$705 million. This year's Middle East Energy has also recorded a substantial increase in international participation with 19 standalone national pavilions, 57 exhibiting countries, and representatives from 132 countries.
Over three days, a record 52,014 industry professionals and buyers – a 155 per cent increase on 2022 – filled the DWTC halls to explore smart solutions, renewables and clean energy (including exhibitors from Intersolar and ees), back-up generators and critical power, transmission and distribution services, and consumption and management systems. The event's upscaled conference programme, which was themed 'Powering The Energy Transition', saw delegate numbers surge by 35 per cent on 2022.
"This year's Middle East Energy was an overwhelming success across every metric," said Azzan Mohammed, Exhibition Director, Energy portfolio of Informa Markets, which organises the annual show. "The event benefitted significantly from the introduction of a dedicated Renewable & Clean Energy Pavilion and a high-level strategic conference, which unpacked a whole host of complex decarbonisation, digitalisation, and innovation challenges for the region's senior energy and utilities decision makers."
Alongside the Strategic Conference, the event also hosted the Intersolar & ees Middle East Conference; a range of CPD accredited Technical Sessions; and a newly introduced CEO Roundtable in which industry leaders engaged in peer-to-peer discussions on emerging market opportunities in renewables, critical backup power sectors, and grid investment plans.

Intersolar & ees' Conference Programs saw increasing number of attendance
The 3-day conference - attended by more than 1550 attendees - guided the region through the energy transition by providing concentrated insights into the transformative dynamics of renewable energies. "The Intersolar and ees Middle East conference was a must-visit for those who could sense the sea change in the energy industry and want to get the inside track. It's specifically for visitors who want to explore the latest advancements in renewable energy, solar, energy storage and green hydrogen", Dr. Florian Wessendorf, Managing Director, Solar Promotion International said. At the Conference the energy industry gathered to engage in meaningful dialogue with 50+ speakers, identified industry pain points, and showcased the latest energy trends in the MENA region. Stimulating discussions were hold during the course of the three days in the well-attended conference area. The session "MENA Solar Market Outlook" was a program highlight and especially the presentations focusing on Utility-Scale Solar such as "New Technologies to Optimize Design, Reduce Cost and Improve Yield" or "Utility Scale Solar & Storage and Grid Integration" were of high interest for the delegates.
With the success of the event now confirmed, Informa Markets has turned its attention to 2024, when Middle East Energy will run from April 16-18. The global solar and energy storage industries are booming, and a rising number of companies are expected to join Intersolar and ees Middle East, as part of Middle East Energy 2024. Therefore Halls 6-8 will be added to accommodate the high demand of exhibitors of these sectors.
"We are reviewing all the feedback from exhibitors and conference participants to ensure Middle East Energy remains at the vanguard of industry knowledge-sharing and business generation," added Mohammed. "The region will continue on its mission to achieve net zero ambitions, which demands massive investment, and we will be closely following the outputs of the UAE's hosting of COP 28 in November 2023 to ensure its impact and focus is reflected in our event next April."

About Intersolar & ees Middle East
In its sixth year, Intersolar, ees (electrical energy storage) and Middle East Energy are joining forces to offer the industry the ideal energy platform in the MENA region. The 48th Middle East Energy Exhibition hosted the Intersolar/ees Middle East exhibition and conference from March 7 - 9 at the Dubai World Trade Centre, UAE. Intersolar and ees Middle East focusses on the areas of photovoltaics, PV production technologies, and energy storage systems. Middle East Energy 2023 had over 52,014 trade and buyer visits from 170 countries and 900 exhibitors.
Intersolar Middle East is part of the world's leading exhibition series for the solar industry. Since being founded more than 30 years ago, Intersolar has become the most important industry platform for manufacturers, suppliers, distributors, installers, service providers project developers, planners, and start-ups of the solar industry. Intersolar exhibitions and conferences are held in Munich, Long Beach, Gandhinagar, São Paulo, Dubai and Mexico City.
ees Middle East is part of the international exhibition series for batteries and energy storage systems and brings together manufacturers, distributors, project developers, system integrators, professional users and suppliers of innovative battery technologies and sustainable solutions for storing renewable energies such as green hydrogen and Power-to-Gas applications.
About Middle East Energy
Middle East Energy (MEE) enjoys a 48-year legacy as a leading global energy industry event. By catering to the entire product spectrum of the power industry, from critical and backup power to energy storage and management, year after year, the event attracts a more diverse audience of professionals seeking to source products from multiple sectors, drive cost-effectiveness and efficiency, and move projects forward.
MEE has been an essential part of the Middle East's economic expansion, connecting business and introducing new products to the region to build infrastructure, real estate, and commerce. MEE is now helping governments, organisations and SME's diversify the generation and supply of energy and build a sustainable future. You can read more at www.middleeast-energy.com

Intersolar & ees Middle East Contact
Solar Promotion International GmbH | P.O. Box 100 170 | 75101 Pforzheim, Germany
Diana Stunz | Senior Project Manager | Tel: +49 7231 58598-0 | stunz@solarpromotion.com